Trying to figure out the best way to clean ceramic tile floors? Professional tile cleaning is an excellent investment for any property, as a pro ensures a deep, damage-free clean. However, DIY cleaning helps keep floors and shower walls as clean as possible in between professional services.
As with cleaning other surfaces and materials, it's vital that you use the right tools and techniques for ceramic. The wrong techniques damage tile and can just waste your time! Check out some tips for ceramic tile cleaning and for keeping it shiny and pristine. Also, feel free to discuss your property's tile with a floor cleaning professional when needed.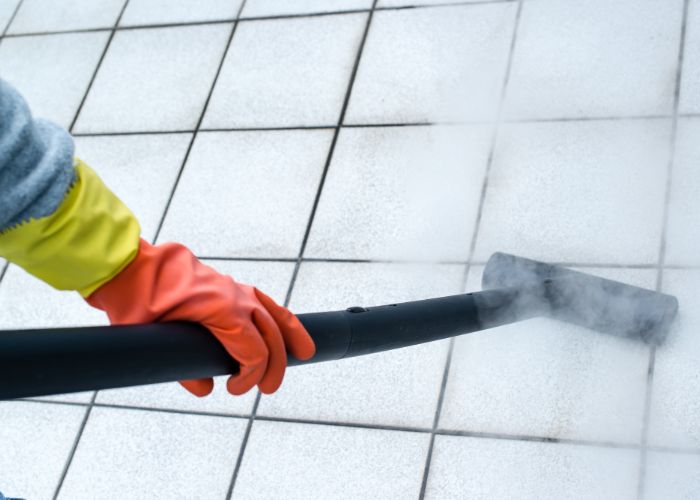 Pro Tips for the Best Way to Clean Ceramic Tile Floors
First, note how ceramic flooring differs from other materials and tiles. Second, always use a weak solution of any cleaner and try it first on a hidden area of tile. This will help determine if it might damage the flooring itself. Also, you can strengthen the cleaner as you work, according to your floor's needs.
1. Always start with a sweep and damp mop
Don't overlook the need to sweep your tile floors completely before cleaning. This includes underneath cabinetry and in all your room's corners. Next, use a clean, damp mop over those floors.
Starting your tile cleaning this way removes anything that might scratch your floors as you work, making it one of the best ways to clean ceramic tile floors. You'll also avoid scrubbing dirt that only needs a damp mop for removal!
2. Try a vegan soap
For a thorough tile cleaning, start with warm water and a liquid vegan soap such as Castile. Vegan soaps won't contain lard, tallow, or animal fats that might leave behind streaks and residue. Instead, most vegan soaps contain vegetable oils, mints, and other natural ingredients. These ingredients often break down dirt, oil, and food residues better than over-the-counter floor cleaners!
To use this mixture, add a few squirts of your vegan soap to a gallon of warm water. Use a spray bottle to apply it and then a clean rag for scrubbing. Rinse the soap thoroughly. If this doesn't get your floors clean, add more soap to the water mixture and repeat the process.
3. Use baking soda for extra scrubbing
Whatever soap mixture you use for your floor cleaning, consider adding some baking soda. The soda helps break down thick dirt and dissolve oils and greases. For instance, you might add a cup of baking soda and a squirt of liquid dish soap to a gallon of warm water.
Also, you can mix baking soda and water for a plain scrubbing paste. This simple mixture works well on tough spots that need a little extra deep cleaning! Ensure you rinse it away thoroughly after scrubbing.
4. No, vinegar does not damage ceramic tile!
Vinegar is an excellent cleaning solution for tile, as it quickly cuts through thick dirt. Also, vinegar removes waxy residues and cleaner buildup. It also helps kill germs, bacteria, and other irritants. However, ensure you use white vinegar and your floors and dilute it with water. This will help avoid damaging tile surfaces and materials. You might also try a cup of vinegar and a squirt of dish soap in warm water when working out the best way to clean ceramic tile floors. This mixture offers a very hygienic clean for your floors!
5. Try a little rubbing alcohol for deep cleaning
Rubbing alcohol is excellent for deep cleaning, but you don't want to overdo its use. Too much rubbing alcohol dries tile and grout, creating a dull appearance. Dry tile also becomes brittle over time, while overly dry grout loses its adhesion.
To use rubbing alcohol safely, add just a capful to a gallon of warm water. Apply this with a mop or spray bottle and then rinse thoroughly. If this doesn't get your ceramic tile clean, call a pro rather than use more alcohol.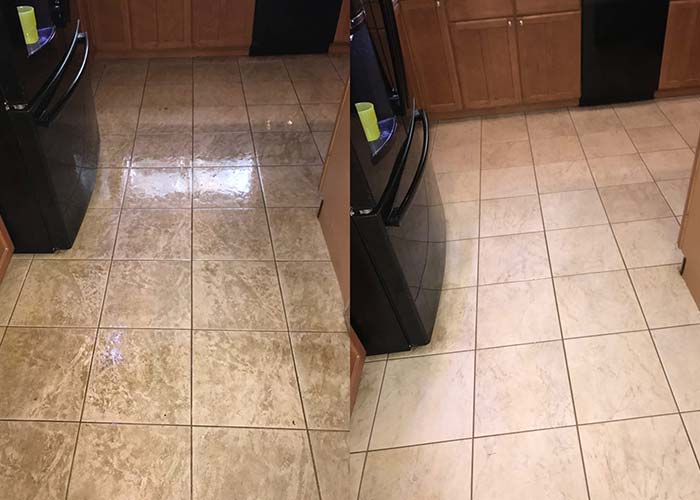 How Do You Clean Ceramic Tile and Make It Shine?
Baking soda is an excellent cleaner for thick dirt and greasy stains. Simply add some water to make a paste and apply it with a soft-bristled brush. Next, use white vinegar dissolved in water to remove residues and buildup. Rinse thoroughly, even more than once, to ensure a shiny clean.
If this process doesn't get your ceramic tile spotless, it's time to call the professionals. A floor cleaning contractor might use commercial-grade scrubbers for a deep clean. Additionally, many contractors have access to heavy-duty cleansers meant for ceramic and grout. Property owners are often surprised at the difference their services make for their floors!
This information is presented by the team at Ameri-Best Carpet Cleaning, which provides expert services for interior cleaning throughout the state of CT.